Knowledge production services
Knowledge production to meet recognized, clearly defined needs or answer to the questions of a company who aims at enhancing its H2FC business.
Market-based value services
The development of the market-based value for H2FC technology products.
This market-based value added for a company's customer will be developed by logistic solutions, brand, green values of renewable energy, and tailored customer-specific services related to a modular and scalable system delivered to put into the use at a customer's location. Entire use value comprises of (1) technology-based product-value created in upstream activities of the value chain, in the main by R&D and design, and, (2) specific market-based value added created in downstream activities by marketing and services.  Measurable use value can be useful to show the benefits of an investment.
It is suggested here that the best advocates of H2FC products are the customers or ordinary people interested in saving energy and caring environment. Raising awareness of clean H2FC solutions available in the market is an urgent task of the actors of this global sector. The modified smiling curve below highlights the meaning of market-based value creation along the value chain (Source: Skills Outlook 2017, S.Jamet,OECD).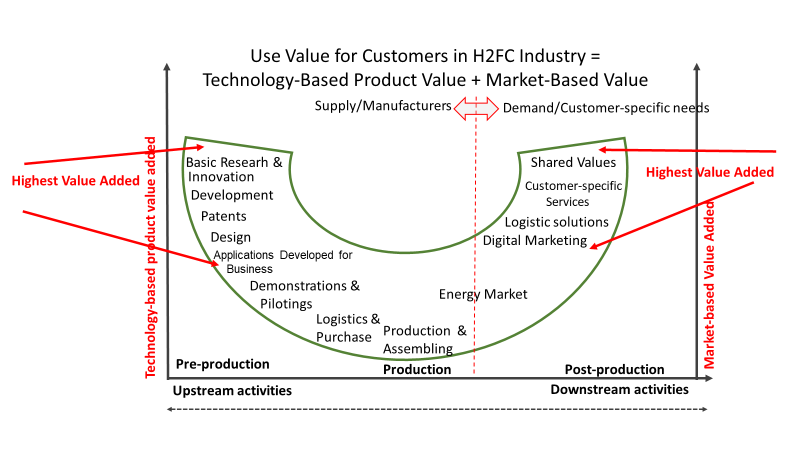 Strategy related services
Strategy and business model formation for a company who aims at enhancing its business in H2FC sector.